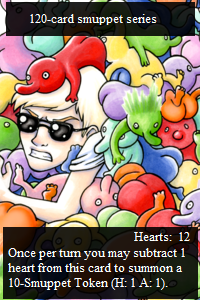 120-card Smuppet Series is a card featuring Dave, from Homestuck, being crushed by an avalanche of smuppets. It is quite similar in appearance to another card.
Stats/Effect
Edit
120-card Smuppet Series has 12 hearts and 0 attack. It's effect allows it to summon a 10-Smuppet Token (1 heart, 1 attack) by subtracting 1 heart from itself.
Background
Edit
The image used for this card appears to be a peice of fan-art for the scene from Homestuck where Dave open the trapdoor to the attic, only to have it rain down smuppets.
This card was the first card seen in the thread capable of summoning tokens.