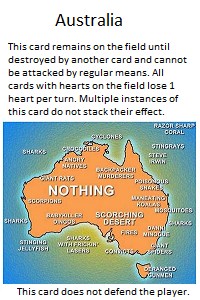 Australia is a card featuring a map of Australia with a whole variety of dangerous things labeled.
It was created by user causelessCogitation.
Stats/Effect
Edit
Australia does not have any hearts or attack. Instead, it stayed on the field until destroyed by something other than a regular attack. While it is in play, all cards with hearts lose one heart per turn.
This card is a reference to this trope.