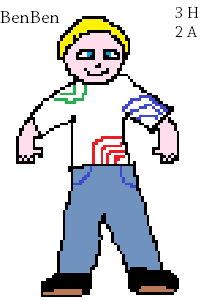 There are currently two cards with the name BenBen.
BenBen (1)
Edit
BenBen (1) was created by BenBen, and features his old avatar before he changed to John Pilgrim.
Stats/Effects
Edit
BenBen has 3 hearts and 2 attack. He has no effect.
BenBen (2)
Edit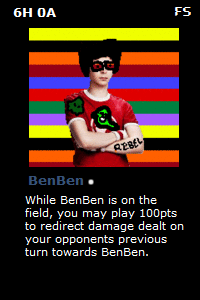 BenBen (2) was created by FuriousSquid and features BenBen's current avatar.
Stats/Effect
Edit
BenBen has 6 hearts and 0 attack. While he is on the field, you can pay 100 points to have damage that was inflicted last turn towards BenBen.
The card says that you "play 100pts" rather than "pay 100pts". This is a typo.