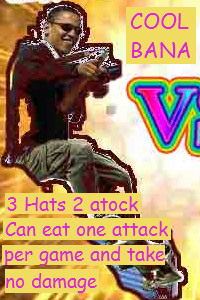 Coolbana is a card created by MasterBlade depicting Barack Obama on a skateboard, wearing sunglasses, and weilding nunchucks.
Stats/Effect
Edit
Coolbana has 3 hearts and 2 attack. He can eat one attack per game, causing him to take no damage from it.
From the background and the rainbow V, you can tell this is the same image used for SB&HJ Duel.
Coolbana's effect comes from his duel with Toronto Raptor, where he eats Toronto Raptor's 'Hot Bacon Breath'.