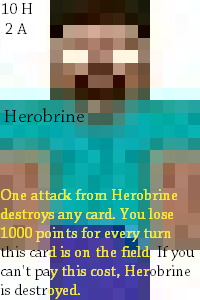 Herobrine is a card created by BenBen depicting the Minecraft creepy-pasta, Herobrine.
Stats/Effect
Edit
Herobrine has 10 hearts and 2 attack. One attack from him will destroy any card. You are required to pay 1000 points per turn, otherwise Herobrine is destroyed.
Due to his effect, the fact that Herobrine has 2 attack is pointless.