There are currently two Lord English cards to date.
Lord English 1
Edit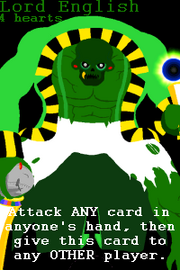 This card has 3 attack power, as stated by its creator. In order for it to attack, the player must declare which card it attacks as in "first card from the right" or so on. It then travels to the field of any player playing at this moment. Beyond that it only has 4 hearts.
This card was created by fivexthethird.
Lord English 2
Edit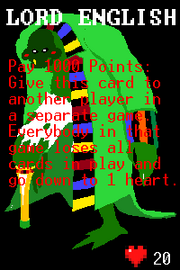 This card costs 1000 points to play. It travels to the field of a target player, and causes everyone's cards to be destroyed and every player to go down to 1 heart. Because of this effect, and it's 20 hearts, it can pretty much guarantee victory for the player who recieves Lord English unless the opponent has a card that can directly damage the opponent, like
spit
.