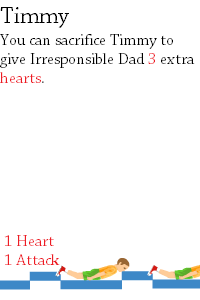 Timmy is a card created by BenBen featuring the Irresponsible Dad's son from Happy Wheels.
Stats/Effect
Edit
Timmy has 1 heart and 1 attack. He can be sacrificed to give Irresponsible Dad 3 extra hearts.
His effect is a referance to the fact that Timmy can often be sacrificed to save Irresponsible Dad in Happy Wheels.