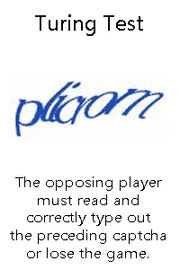 Turing Test is a card depicting a captcha code.
Stats/Effect
Edit
Turing Test has no hearts or attack. When played, the opposing player must read and type out the captcha on the card. If they get it wrong, they automatically lose the match.
The captcha reads "plicrom".
BenBen originally thought the name of this card was Turning Test.
BenBen lost the Game while making this page.