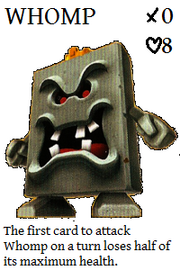 Whomp is a card made using Shigeru Miyamoto's effect. It depicts a Whomp from the Mario series.
This card was made by MasterBlade.
Stats/Effects
Edit
Whomp deals damage equal to the unit that first attacks it in a turn's maximum health. Because the opponent can choose which card to attack it with at any given time, the opponent can really control how and when to kill it.